Palm Reading Scams
Just another reason why it pays to be a Skeptic
2/3/08
Ok – it has happened again – a palm reader has bilked a group of people out of lots of money. Seems like this happens every year or so in our county – you would think people would learn. This time it was the Latino community taking in by a Senora Sara. What surprised me wasn't that it happened, as I said, it happens every year or so. What actually caught my eye was that the amount stolen was so little, only $25k. And yes, I know that is a lot, but previous takes were in the $50k range. This psychic left town after only taking $25k.
It definitely pays to be a skeptic. Being a skeptic isn't a negative thing, especially if it prevents you from being taken in by scam artists who are trying to scare you out of your life savings. This particular scam is so common, it is listed on the state of Illinois website as a common consumer scam.
Several states have actually outlawed psychics and fortune telling for money to avoid these sorts of problems, Pennsylvania and New York among them. You can still do this sort of thing for fun, but you really shouldn't take people's money for something that is unproven. And yes, this is unproven. The fact it is or should be illegal to take money for services you cannot prove you can actually provide doesn't stop people from setting up shop or from seeking out the advice of fortune tellers, but it should give the thinking person some clue that there is a problem with this line of work, and that the problem is big enough that the state outlawed the practice.
Looking for Florida law, it doesn't seem to prohibit it, but unlike the claims of many psychics advertising online in Florida, there doesn't actually appear to be any way to get a certification as a psychic consultant or to register as such.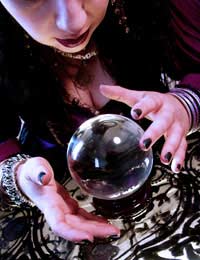 Which brings up a good point. Lets not outlaw it, lets just require certification. You have to prove you have some psychic ability, and then you can register as a psychic consultant. If you want to go into the fortune telling business but can't prove your psychic abilities, that is fine too, lets set up a system where you can register as a fortune telling entertainment business with requirements that your advertisements and place of business display the caveat that your abilities as a fortune teller are unproven and that you are an entertainer only.
I think this would work because if you have to register and be licensed to work as a psychic in Florida, then a) there will be very few people who qualify, and b) even those that opt for the entertainment option will be registered and findable should there be a complaint. The most important thing this would accomplish is that it would allow the police to shut down anyone setting up shop without such a license. This alone would have saved these poor people caught in the latest scam their collective $25k.
It would also be a big boon to those people who aren't trying to scam hard working people out of their life savings the ability to self-police. The registered ones would have a great interest in shutting down the unregistered ones as they are their natural competition.
Anyway, that is my 2 cents. Be a skeptic and don't fall for these scams. If a so-called psychic cannot prove that they are really psychic, and they can't, then don't give them your money. Unless you just want to have a good laugh at what they tell you. And yes, I have had my palm read by a woman in New Orleans. I went with some girlfriends and we had a good laugh. Well worth the $25 we collectively paid her for her time.
---
PS: Funnily enough, the biggest fraud case of this kind wasn't about whether the services offered were real, but whether the person was who they claimed she was – she wasn't. I am talking about ms Cleo – details of her case are here.